Latest new from Gloucestershire Warwickshire Railway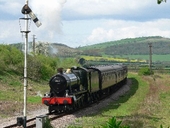 Current 'Chicken Curve' situation on the Gloucestershire Warwickshire Steam Railway line.

To date GWR consultants have undertaken a topographical survey of the embankment and installed both static water pressure and inclinometer sensors. The results from these have allowed them to develop repair strategies for the embankment. These repair designs are out to tender with contractors and GWR are currently waiting for our land agent to negotiate access rights to the land either side of the embankment. The results of these negotiations will affect the final repair design and cost. In the mean time GWR have cleared the embankment sides to allow easy access and have investigated, cleared and repaired drainage on their land in readiness for the additional drainage from the embankment repair.

In January 2011 the railway embankment at what is known as 'Chicken Curve' collapsed which has meant that for the 2011 and 2012 seasons the Gloucestershire Warwickshire Railway has had to run two separate train services rather than the one complete journey. Between Cheltenham Racecourse Station and Winchcombe Station there have been regular steam services and at Toddington Station there has been a heritage diesel railcar service. Both have proved to be very popular with visitors to the railway and many taking the opportunity to enjoy two unique travel experiences.
The Emergency Fund raising appeal continues to raise the necessary money to complete the repairs there is currently a shortfall of £300,000. Donations can be made via the website www.gwsr.com.
---
Explore Gloucestershire
7 December 2011

For further information.



OTHER NEWS
• Latest new from Gloucestershire Warwickshire Railway
• OFFER: Winter Warmers at The Inn at Fossebridge
• Plan B announce Westonbirt Concert date for 2012
• RESTAURANT & ACCOMMODATION REVIEW: The Ship Inn at Newnham
• RESTAURANT REVIEW: The Craven Arms at Brockhampton
• ENTERTAINMENT REVIEW: Jack and the Beanstalk at the Everyman Theatre