Flooding Situation - Emergency Services Update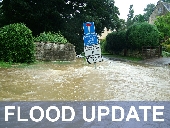 Monday 23 July 2007
Emergency Services and those involved in dealing with the response to this major incident would like to thank the public for their ongoing cooperation and understanding with this unprecedented situation.

The way in which communities have responded by working together to support one another especially the elderly and vulnerable has been truly remarkable.

The River Severn is still rising but not as fast as anticipated, it is due to peak later today (Monday 23 July) so there is still cause for concern.

Homes in Tewkesbury, Gloucester and Cheltenham are at risk of losing their water supply. People in these areas are being asked to use their water sparingly. Severn Trent have deployed Bowsers at key sites in Gloucester and Tewkesbury. Severn Trent, with the assistance of the Fire Service and the Highways Agency are constructing 22 miles of temporary water mains to enable water to be pumped from outside the county in an effort to restore essential supplies.

The priority of the emergency services, with colleagues from the local authority, utility companies and the Military, is to safeguard electricity substations.

Mythe Substation has limited its electricity supply due to the flooding which has resulted in around 400 homes in the Priors Park area of Tewkesbury being without electricity.

Walham Substation is potentially vulnerable and work continues in order to protect it. Temporary flood barriers are being delivered to protect the site. The Fire and Rescue Service are working with the Military to erect these flood barriers to ensure the sub-station is adequately protected.

The Fire and Rescue Service are also in attendance at Castlemead Substation to assess any issues with potential flooding there.

A number of high-volume pumps are in attendance which have been drawn from outside the county to assist with the ongoing response to these emergencies.

At the Mythe Water Treatment Works the fire service are working with Severn Trent and other agencies to try and pump out the station. As a result of this being flooded the water supply to homes in Tewkesbury, Gloucester and Cheltenham are likely to be affected.

The position in Gloucester around the Docks and the Quay area remains critical. A severe flood warning is in place. People in the affected area should evacuate their houses.

Those who do not heed this advice could end up stranded and needing to be rescued. This would cause even more strain on already over-stretched resources.

GL1 in Gloucester remains open as a rest centre and has the facilities to be able to cater for these people.

Both Gloucestershire Royal Hospital and Cheltenham General Hospital have cancelled all routine surgery. Patients are being informed. Severn Trent are supplying enough water to ensure they are functioning sufficiently.

Anyone with health concerns can call their usual out-of-hours service or NHS Direct 0845 4647. Please only call 999 if it is a genuine life-threatening emergency.

There are still a number of road closures in place throughout the county, please listen to your local radio station for the latest update.

As a purely precautionary measure, a number of prisoners have been transferred from Gloucester Prison to other facilities in nearby counties.

Update 3am
The plan to construct 22-miles of temporary water mains to enable water to be pumped from outside the county in an effort to restore essential supplies will not be going ahead.

Gold Command Group considered other strategical options, taking into account the traffic disruption on the M5 that this would cause and the resources required to implement it. The benefits of this type of system did not justify the amount of disruption. This will ensure the Fire and Rescue Service can continue to be deployed effectively.

Other options are currently being explored which will provide the same degree of benefit without the undue impact on traffic and already severely stretched resources.

Update 8am
The substation at Castlemeads has been switched off due to flooding.

The decision to terminate the supply in a controlled manner was made for safety reasons due to a sudden surge in the flood water.

Fire and Rescue are working with Central Networks to try to restore power as quickly as possible. However it may remain off for some hours.

It has affected 48,000 homes in the Gloucestershire area.

Update 3pm

The A40 remains closed and is effectively cutting the county in half.

Dr Shona Arora, Director of Public Health for Gloucestershire Primary Care Trust, reiterated advice to stay away from flood water, ensuring children do likewise.

However, she pointed out the risk of infection from flood water was presently low.

Water from bowsers should preferably be boiled before drinking it, however drinking unboiled bowser water is obviously safer than dehydrating.

In terms of sanitation, the advice is to flush toilets less often and if you need to flush please use flood or grey water.

Both main hospitals in the county remain open but are cancelling all non urgent surgery and outpatient appointments.

In an update from Severn Trent Alan Payne, General Manager Water Services, said there were currently around 70,000 homes without water in Tewkesbury, Gloucester and Cheltenham.

Homes unaffected by loss of supply are asked to conserve water whenever possible.

Some 250 bowsers have been distributing water throughout the county and 150,000 litres of bottled water was made available at Tesco Supermarket in Quedgeley, Gloucester, and Sainsbury's supermarket in Barnwood, Gloucester.

People on dialysis are being given water through special arrangements and the public are asked to check on vulnerable neighbours.

The priority is to reinstate a water supply to those affected households without a mains supply.

For the Environment Agency Anthony Perry, Flood Risk Manager, said the current situation was unprecedented in the county and water levels had exceeded levels previously experienced in 1947.

Water levels in Tewkesbury remain high and in Gloucester it is still rising.

All services are working extremely well together.

Terry Standing, Chief Fire Officer for Gloucestershire, said: "There has been a significant and magnificent effort at the Walham sub station site and we are grateful for the assistance from the military and the Environment Agency and so far we have managed to secure that site but it remains vulnerable and we are watching it closely.

"Most of our attention at the moment is on the Castlemead sub station which remains critical. We are putting in place sandbags and drawing in more dam capabilities. We have eight high volume pumps on site with the military and the Environment Agency and have been working to put in flood barriers.

"In Mythe we are developing tactical plans so we can start working on that, hopefully putting it into operation on Wednesday.

"Another area of concern for us is Gloucester Quay where water levels continue to rise. We are asking members of the public to evacuate that area so they do not become a water rescue victim later in the day. We have a number of rescue boats and high volume pumps on standby.

"The Fire Service is still rescuing people from the Tewkesbury area and we have had support boats and help from the RNLI, Rapid UK, RSPCA, the Severn Area Rescue Association, the military and other Fire and Rescue Services.

"We have dealt with an average of 2,500 calls and have carried out several hundred rescues so far and these are continuing."

For Gloucestershire County Council Margaret Sheatherreiterated the helpline numbers also available from the council's website at www.gloucestershire.gov.uk.

She urged the public to help each other by checking on friends and neighbours who possibly do not have power, ensuring they have the latest information and support if they need it.


For further information.



OTHER NEWS
• Linking up with STAR 107.5FM
• Eating out with a difference at AV8 Restaurant
• Gloucester Tall Ships 2007
• The Glory of the Flower by LAPADA
• Heritage Open Days 6 - 9 September
• Photography Competition - WIN a Digital Photo Frame!
• New Aviaries at Birdland Park & Gardens
• £5 off your family ticket at Dean Forest Railway
• WIN TICKETS TO HOWLERS COMEDY CLUB
• HOWLERS COMEDY CLUB - New Autumn season dates
• SPECIAL OFFER - Promote your event for only £10 pcm
• Watch our movie of the Gloucestershire Floods of 2007
• Chocolate heaven at The Chase Hotel
• Events Cancellation & Updates
• Gloucester Blues Festival UPDATE
• Joust Cancelled 28 & 29 July 2007
• Flooding Situation - Emergency Services Update
• Flooding Situation - Emergency Services Update Tuesday 24 July 2007
• Gloucester Carnival Procession 2007 cancelled
• Joust cancelled for 21-22 July 2007
• Elton Farm Giant Maize Mazes
• NEW Severn Vale section added
• Royal International Air Tattoo 2007 Review
• Explore goes karting in Gloucester
• CATS - Get your paws on tickets for the closing shows
• David Beckham Acadmy at the Cotswold Show
• Joust Update & Joust Royal Feasts
• Saul Canal Festival Cancelled
• Pick Your Own Strawberries
• Kemble Air Day 2007 review - A great day out!
• Explore celebrates half million hits each month
• Last Howlers of the Season
• Host Birthplace Museum Secures Holst Letters
• Gloucester International Rhythm & Blues Festival Update