Gok Wan to Officially Open Gloucester Quays Designer Outlet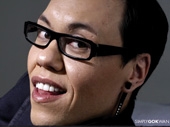 Gloucester Quays have secured TV Celebrity and Style guru Gok Wan to officially open the Gloucester Quays Designer Outlet Centre.
Gok will officially open the centre at 10:30am on the 30th May as part of the ten day celebrations during the opening period which begins when the doors open to the public on 21st May 2009.
The hugely popular style guru and national fashion icon made famous by TV shows such as How to Look Good Naked and Gok's Fashion Fix, will take part in a photo call in the main Gloucester Quays Designer Outlet where he will declare the centre officially open.
Gok's Fashion Fix is his latest television show currently being shown on Channel 4 and aims to help women make the most of less.
Whilst at Gloucester Quays Designer Outlet, Gok will also be giving three 30-minute VIP 'audience with Gok' sessions which are set to be hugely popular. Using models Gok will explain how best to achieve up to the minute looks with designer style at discounted prices through shopping at Gloucester Quays. Specially selected clothing and accessories from stores within the designer outlet will give audience members a chance to see exactly the kind of fabulous items on sale at Gloucester Quays and how they can really work their wardrobe without breaking the bank.
The sessions promise to be full of hints and tips for those looking to bag a bargain or dress to impress on a budget at Gloucester Quays and members of the audience will also be encouraged to take advantage of this exciting opportunity to ask questions in a Q&A session – giving them the rare opportunity of receiving dedicated advice first hand from Gok.
For those who miss out on the chance to be in one of the 'audience with Gok' sessions, Gok will also be taking part in a book signing in the outlet centre malls. Eager fashion followers can meet the star and have their copy of his legendary style books signed by him in person.
Gok Wan's fashion advice is renowned as he transforms the ordinary in to the extraordinary, plain in to quirky, and basic in to stylish. His hugely successful show 'How to Look Good Naked' has made him a household name and his style books including 'How to Look Good Naked' and 'How to Dress' have been huge hits making his advice golden!
Franco Muccini, Centre Director said, "Gok Wan is extremely popular and has some fantastic fashion advice for savvy shoppers who won't sacrifice on style despite the credit crunch. He is the perfect person to officially open the centre and demonstrate how shoppers on a budget can still achieve that fashionable look by shopping at Gloucester Quays"
Stores recently announced at Gloucester Quays Designer Outlet include, L.K Bennett, De Keyser London, Jovani, Iceberg, Feraud, Austin Reed, Hawes & Curtis, Jeff Banks, Melka, Suits You, Chapelle Jewellery, Daniel Footwear, Hush Puppies and Pavers Shoes, with more yet to come!
---
Explore Gloucestershire
21 April 2009

For further information.



OTHER NEWS
• Vulcan to appear at the Kemble Air Show 2009
• Need somewhere to stay for the Gloucestershire Air Shows in 2009?
• Nine Days to Explore Art in and around Cheltenham
• Wychwood 2009 - Final Line-ups
• "Tapas on the Terrace" at The Wharf House near Gloucester
• Angels in the Forest - Westonbirt Arboretum
• Tree-mendous fun for everyone - Festival of the Tree at Westonbirt Arboretum, 24 - 31 August 2009
• Meet the top gun pilots who will be displaying at Kemble Air Show 2009
• Sudeley Castle's gardens alongside Eden Project in top 5 gardens to visit in the South West
• SUMMER MADNESS! Barcelo Cheltenham Park Hotel: £89 per night, per room for 2!!
• New art gallery opening at Gloucestershire Arts & Crafts, Brockworth Court Farm
• A taste of Italy in Cheltenham: Bottelinos, restaurant review by Sam Dexter
• Gloucester Quays Opens its Doors to Shoppers
• Hogwarts Express at Gloucestershire Warwickshire Railway
• Whitsun School Holiday activities in Gloucestershire 2009
• Green fingered half term holiday activities with the National Trust
• A day out with Thomas in the Forest of Dean
• USAF to star at 2009 Kemble Air Show
• A day in the life of Figaro
• White Room Images- competition and offers at The Suffolk Street Traders Fair
• Rare Vulcan set to soar at the 2009 Royal International Air Tattoo
• Wychwood Launches the First Literature Festival for Children
• Gloucester Quays Designer Outlet announces its line up of opening events!
• A blank canvas at The Brewery in Cheltenham
• Asparagus now ready at Primrose Vale & Over Farm Market
• Name the Science Festival ale Competition
• Little Boots confirmed for Wychwood 2009
• Heston Blumenthal at the 2009 Times Cheltenham Science Festival
• Monty - New arrival at Cotswold Wildlife Park
• Gok Wan to Officially Open Gloucester Quays Designer Outlet
• Royal Navy airpower demo at Royal International Air Tattoo (RIAT 2009)
• Last Swan leaves Slimbridge
• Easter Entry offer at Out of the Hat
• Easter School Activities in Gloucestershire
• Send a Little Ray of Sunshine and raise money for Sue Ryder Care
• Cotswolds Attractions Group - Juicy Snails, Dodgy Duck and Naked Gardeners!
• Little Farmer Food Festival - Stalls still available!
• 2009 'Gloucestershire at its Best' photography competition - Opens 1 April
• NEW exhibition - Mini Boutique – from mini cars to mini-skirts
• Night of the Champions at GL1
• Last chance to save £££'s on RIAT 2009 tickets!
• LATEST OFFER! Kids go FREE at Cotswold Motoring Museum
• Master-Chef, great food, drink & music at Cheltenham Food & Drink Festival 2009
• Come and see Henry VIII at Sudeley Castle!
• Great travel offer from Stagecoach MegaRider!
• New 2009 Explore Gloucestershire printed guide now available!
• Kids go FREE at Prinknash Bird & Deer Park
• Spring arrives at Dick Whittington Farm Park
• Air Tattoo Welcomes 51st Nation on board