Free venue hire at 'The Boogie Lounge' featuring the 'Funkasino'!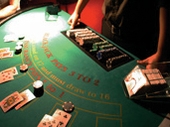 Are you looking to hold an office party this summer? Are you worried about the associated costs of such an event? Well, Boogie Lounge in Cheltenham is giving local businesses something to cheer about by offering free venue hire to companies looking to throw an office party. The Boogie Lounge, which is located on Imperial Lane opposite the Town Hall in the heart of Cheltenham, is giving away the cost of hiring out the venue for parties of 50 people or more*.

Boogie Lounge has been hosting parties since it opened back in October 2007 and is now widely regarded as one of the premier party venues in Gloucestershire. The offer aims to promote the social side of work and encourage employees to get together outside of the office.

Adam Whittard, the manager of Boogie Lounge says "With all the economic issues that a lot of companies seem to be faced with, we want to give employees at local companies a chance to let their hair down." He then goes onto explain. "We have a number of options available for companies looking to hold an office party here. The club has two floors, either or both can be hired. The main room accommodates the main dance area and the main bar and can hold up to 200 guests. The upstairs room, known as the 'Lava Bar', is a unique and adaptable room ideal for relaxing or dancing. This room can hold up to 80 guests."

The famous 'Funkasino' is also available for guests to hire free of charge and enjoy games of Blackjack and Roulette on professional tables for the chance to win shots, cocktails and champagne.

Parties at Boogie Lounge are extremely flexible and guests can pick and choose exactly what they want available at their party. One or both rooms can be hired, free of charge. DJ's are available to hire, or you can bring your own (DJ, CDs or iPod). Guests can come and decorate the venue before the event and food can be brought or provided...it's up to you!

The aim of the Boogie Lounge is to provide all guests with a lively and fun night out in a safe and friendly environment. They have created a smart, retro-style venue where people of all ages can feel at home. For further information on the free venue hire offer you can contact Adam direct by email or by telephone, why not be the first to take advantage of this offer?
Tel: 01242 238001 or 07793 373250 to book your Boogie Lounge party.

*offer ends November 1st 2009
---
Explore Gloucestershire
31 July 2009

For further information.



OTHER NEWS
• Can You Dig It? Yes you can at the Dean Heritage Centre!
• Cheltenham gets dancing to raise funds for local cancer charity
• 2009 Battle of Britain Weekend at Kemble Airport - latest news
• HERITAGE OPEN DAYS: Free admission at Dean Heritage Centre this weekend
• Watch the 2009 Bourton-on-the-Water football match in the river Windrush
• Early Bird Offer. 20% off your Christmas party at Barcelo Cheltenham Park Hotel
• News from St Augustines Farm - New camera obscura
• Outstanding sales for The Times 2009 Cheltenham Literature Festival
• Free venue hire at 'The Boogie Lounge' featuring the 'Funkasino'!
• Earthworks by painter at the Dean Heritage Centre
• 21 years of Didmarton Bluegrass Festival 2009 at Kemble Airport
• Watch the new Birdland Park & Gardens video produced by Explore Gloucestershire
• Cheltenham's art gallery and museum wins a £500k grant
• Westonbirt Arboretum blazes an Autumn Trail
• Steam Along to Sudeley! Fantastic offer from two top Gloucestershire visitor attractions!
• A message from Explore Gloucestershire's media partners STAR 107.5FM
• Otter family makes a splash at WWT Slimbridge
• Gloucester Antiques Centre moving to Gloucester Quays Designer Outlet
• Priority booking, exclusive discounts, outstanding speakers at the 2009 Cheltenham Literature Festival
• Explore Gloucestershire Exclusive: Webcam installed at Birdland in the Cotswolds!
• Painted Violins in surprising places!
• WIN family tickets to the best visitor attractions in Gloucestershire + more!
• Watch programme of events video for the 2009 Cheltenham Music Festival
• SAVE 20% - Buy tickets to the 2009 Cotswold Show on-line now!
• Get ready for Summer school holidays in Gloucestershire 2009
• Watch the hilarious TITAN the Robot at The Brewery in Cheltenham
• PYO Strawberries in Gloucestershire at Primrose Vale & Over Farm
• PAMPERING WEEKEND! Barcelo Cheltenham Park Hotel: £325 per room including upgrade!
• RELAX & UNWIND! Barcelo Cheltenham Park Hotel from £89!
• 'Six of the Best' events in Gloucestershire with STAR 107.5FM
• GIRLIE GETAWAY! Barcelo Cheltenham Park Hotel: £89 per person including pampering session!
• The latest news on the 2009 Royal International Air Tattoo