Joust Cancelled 28 & 29 July 2007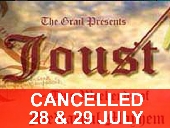 With great regret and due to a combination of the unprecedented flooding - the worst in modern history, continued forecast bad weather and the severe flood and travel problems across the whole of Gloucestershire and the UK as a whole, the second weekend of Joust at Berkeley Castle and also the Joust Banquets are cancelled.

A last minute attempt to find a viable alternative venue proved unsuccessful and organisers therefore were left with no option but to abandon this year's show.

Since having to cancel the first weekend due to flooding it has become increasingly clear to all concerned that not only is the show field unlikely to be usable in time for next weekend but the whole local infrastructure is being strained to the limit by the freak weather affecting the UK. In addition stories of power cuts, a lack of drinking water, tourists and visitors being discouraged from coming to the area added to bad weather still being forecast, the decision was made to stop next weekend's festival including the banquets in the Castle garden.

Joust has been at Berkeley Castle for 6 increasingly successful years and it is a great disappointment to everyone involved and the local residents who have been so supportive, to see the event not go ahead this year.

We aim to be back at Berkeley in 2008 with the unique blend of jousting, music, fun and mediaeval mayhem.

Organisers have asked advance ticket holders to contact their point of purchase from next week.

For further information.



OTHER NEWS
• Linking up with STAR 107.5FM
• Eating out with a difference at AV8 Restaurant
• Gloucester Tall Ships 2007
• The Glory of the Flower by LAPADA
• Heritage Open Days 6 - 9 September
• Photography Competition - WIN a Digital Photo Frame!
• New Aviaries at Birdland Park & Gardens
• £5 off your family ticket at Dean Forest Railway
• WIN TICKETS TO HOWLERS COMEDY CLUB
• HOWLERS COMEDY CLUB - New Autumn season dates
• SPECIAL OFFER - Promote your event for only £10 pcm
• Watch our movie of the Gloucestershire Floods of 2007
• Chocolate heaven at The Chase Hotel
• Events Cancellation & Updates
• Gloucester Blues Festival UPDATE
• Joust Cancelled 28 & 29 July 2007
• Flooding Situation - Emergency Services Update
• Flooding Situation - Emergency Services Update Tuesday 24 July 2007
• Gloucester Carnival Procession 2007 cancelled
• Joust cancelled for 21-22 July 2007
• Elton Farm Giant Maize Mazes
• NEW Severn Vale section added
• Royal International Air Tattoo 2007 Review
• Explore goes karting in Gloucester
• CATS - Get your paws on tickets for the closing shows
• David Beckham Acadmy at the Cotswold Show
• Joust Update & Joust Royal Feasts
• Saul Canal Festival Cancelled
• Pick Your Own Strawberries
• Kemble Air Day 2007 review - A great day out!
• Explore celebrates half million hits each month
• Last Howlers of the Season
• Host Birthplace Museum Secures Holst Letters
• Gloucester International Rhythm & Blues Festival Update