Wildlife Photographer of the Year 2008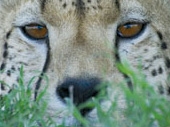 Nature in Art near Gloucester once again is displaying the amazing entries for the 'Wildlife Photographer of the Year' from 22 January to the 2 March 2008.
The exhibition showcases the very best photographic images of nature to a worldwide audience, displaying the splendour, drama and variety of life on Earth and inspiring people to care for its future. It also aims to show the artistry involved in wildlife photography and encourage a new generation of photographers to produce visionary and evocative interpretations of nature. For many photographers, highlighting the richness and variety of life on Earth is just as important as capturing a wildlife moment with perfect composition and timing. Each picture in the display is captioned to reveal how and why it was taken.
---
9 January 2008
Explore Gloucestershire

For further information.



OTHER NEWS
• NEW printed guide now available
• Easter Events in Gloucestershire 2008
• Sports Relief this weekend
• Cheltenham Festival 2008 - revised Race Order
• Egg-citement builds for Cheltenham's Big Easter Weekend
• Tickets still available for The Beat + Neville Staple Thursday 28 February
• Van Morrison to play at The Centaur, Chetenham
• Eartha Kitt at Cheltenham Centaur
• Kemble Airport under attack for Kemble Air Day 2008
• February 2008 half term activities in Gloucestershire
• Cheltenham Rises to the challenge for Sport Relief
• What's on at The Everyman in February 2008
• Wurzelmania comes to Gloucester
• School Holiday Calendar 2008
• Wildlife Photographer of the Year 2008
• New Year - time for a brisk stoll in the sticks
• Preview to the 12th Cheltenham Folk Festival
• Last week to enter 2007 Photography Competition
• NEW Web Cam in Gloucester
• What's on at The Everyman in January 2008
• Howlers Winter/Spring Season 2008 (+ new venue!)
• 2008 - A year of events in Gloucestershire
• Quadrophenia Collection arrives at Littledean Jail